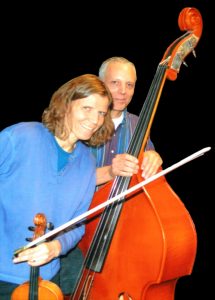 We are fiddler Kim Patch and bassist Eric Smalley.
We play a range of original, traditional and contemporary instrumental music, including old-time, blues, Celtic, ragtime, bluegrass, waltzes, and English country dance tunes.
We're also members of Louder Than Milk, Andrew Innes and the Reluctant Ramblers and Creek River String Band. We've played throughout New England with these and other groups in venues as diverse as The Burren – Backroom, the Joe Val Bluegrass Festival, the Saint-Gaudens National Historic Site, and Hammond Hall in Winter Harbor, Maine.  Kim has also played in community orchestras, including the Boston Chamber Symphony. Learn more about the other groups we play in.
Interested in having us play for your event? Contact us at bookmatchduo@gmail.com or (617) 325-3966.
Also, for as long as we're cooped up, we'll be playing live at BookmatchDuoMusic on Facebook, Tuesdays from 7 to 7:30 pm. Join us!
Want notices of upcoming shows? Sign up here. See Bookmatch Duo videos.