Kim plays fiddle and Eric plays upright and electric bass in the Boston bands Louder Than Milk, Andrew Innes and the Reluctant Ramblers and Bookmatch Duo. We also occasionally play with The Rozzicats and Creek River 3, and we were members of Creek River String Band.
Sign up to hear about upcoming shows where Kim and Eric will be playing
Upcoming shows
Saturday, September 9, 8:30-9:15 pm – Louder Than Milk at The Midway, JP, with Double Star and Sara Colb & the Sagamore James Band, $10 cover
Saturday, September 23, Roslindale Porch Fest
– Andrew Innes and the Reluctant Ramblers
2:20-3:20 at 647 South Street
– Louder Than Milk
3:40-4:40 at 229 Metropolitan Avenue
About the bands
Louder Than Milk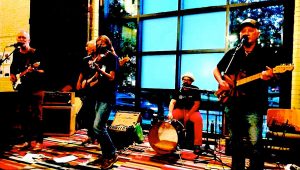 Louder Than Milk's catchy, heartfelt music spans Americana, country, blues and rock. The band's songs are written by Andy Crowe, Jay Paget and Jeff Todd, who frequently combine for tight three-part harmonies. A sprinkling of original instrumentals, including tunes penned by fiddler Kim Patch, and a few choice covers round out the band's grooving kaleidoscopic repertoire. The band was born in the Northeast and travels through American back roads. If they're not back by morning, they must've got lost in the night.
See the video of Ossipee and I'm the Man.
Listen to the album Startin' Somewhere.

Andrew Innes and the Reluctant Ramblers
Andrew Innes and the Reluctant Ramblers plays Andrew's original songs, which are rooted in indie-folk, blues, Americana and bluegrasss. Andrew even throws some musical saw into the mix. The Ramblers include pedal steel player Tim Obetz who has performed and recorded with many musicians and bands in the Boston-area including Buffalo Tom, Will Dailey, Terry Kitchen, Buttercup, and The Pineapple Ranch Hands.
The Rozzicats
The Rozzicats play an eclectic mix of older pop, Americana, country classics and Andy Hollinger originals, interspersed with a bit of bluegrass and some Kim-Patch-penned, fiddle-driven instrumentals. The band features Jenn Goldson performing songs by leading female American songwriters, including Nancy Griffith, Kate Wolf, Rhiannon Giddens and Celia Woodsmith.
Bookmatch Duo
Bookmatch Duo plays

a range of original, traditional and contemporary instrumental music, including old-time, blues, ragtime, bluegrass, waltzes, contra dance tunes, and English country dance tunes. For a clue about the origin of our name, see the background of our photo.
See our collection of livestream videos.
Creek River 3
Creek River 3 plays a mix of Americana, bluegrass, blues, old-time with some originals, featuring singer, songwriter and multi-instrumentalist Kara Kulpa.
Creek River String Band
Creek River String Band is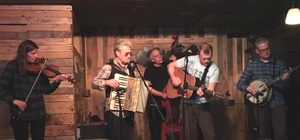 a five-piece acoustic band that delivers an energetic and eclectic mix of bluegrass, country, folk, old-time, Tex-Mex, Celtic, blues and rock. Or as we like to say, fresh-baked roots music. Sign up to hear about upcoming Creek River String Band shows.
See the videos of Donner Party, Talk About Heaven and Mary Jane's Last Dance.
Listen to the album Let's Have a Donner Party!
Listen to our debut EP.
Hay Pond Rounders
The Hay Pond Rounders is a loose affiliation of pickers, fiddlers, squeezers, kids, dogs and reprobates who come together each fall to make music up North.
Listen to the album Meet the Hay Pond Rounders.
Boston Chamber Symphony
Avlana Eisenberg, conductor
The Boston Chamber Symphony, formed in 2012, includes current and former principals and other members of many area orchestras including the Mercury Orchestra, Brookline Symphony, New England Philharmonic, Longwood Symphony, Newton Symphony, Quincy Symphony, Melrose Symphony, Harvard-Radcliffe Orchestra, MIT Symphony, Boston University Symphony, and others. Avlana Eisenberg has conducted orchestras throughout the United States and in France, Germany, Austria, Scotland, Spain, Bulgaria, the Czech Republic, and Hungary. She holds a Master's Degree in Orchestral Conducting from the University of Michigan and a Graduate Performance Diploma from the Peabody Institute, and was a Fulbright Fellow in Paris.
– Kim played violin in 2014 and 2015.
Recent shows
Sunday, June 18, 3:30-7:15 pm – Louder Than Milk at The Midway, JP. It's our album release party! $10 cover
Saturday, June 17,  8:30-9:30 pm – Andrew Innes and the Reluctant Ramblers at Square Root, Roslindale
Thursday, June 15, 8:30-10 pm – Louder Than Milk at Notch Brewing Brighton, no cover
Sunday, June 11, 2-3 pm – Andrew Innes and the Reluctant Ramblers at The Substation, Roslindale, no cover (fundraiser)